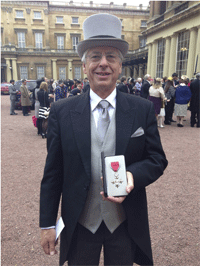 In June 2013 we were delighted to hear that Andy Barclay, our Projects' Director until his retirement at the end of 2012, had been awarded an MBE for his work on prison reform in Libya. Andy's contribution marks the culmination of some fifteen years working with ICPS during which he has led projects in many countries of the world, including Mongolia, Kazakhstan, Russia, Venezuela, Chile, Brazil, and other countries in Latin America, Sub Saharan Africa and South Asia. We are very proud of his achievements at ICPS, along with those dedicated associates who have enjoyed working with him over the years. 
Andy received his MBE from Her Majesty the Queen on 28th November.
Our congratulations and very best wishes go to to Andy and his family for receiving the recognition he so fully deserves.