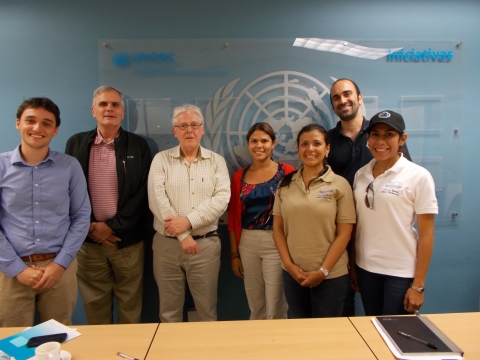 Dr Peter Bennett visited Panama from 23-28 March at the invitation of the British Embassy, the United Nations Office on Drugs and Crime (UNODC) and the Panamanian Prison Service.
Over the past three years the Panamanian Government, supported by UNODC, has embarked on an ambitious programme of prison reform. Central to reform implementation has been the re-opening of the Prison Services Training Academy and the professionalization of custodial staff through improved recruitment, training and conditions of service.
During his visit, Peter met with the British Ambassador, Dr Ian Collard, and his Vice Consul, Jose Mezquita, and other Embassy staff, along with the Project Coordinator of the UNODC Supporting Team in Panama, Ms Maria Noel Rodriguez, and the Director of the Latin American Office of the Association for the Prevention of Torture (APT), Ms Sylvia Diniz Dias. He also met the Director General of the Panamanian Prison Service, Mr Angel Calderon, the Head of Diagnosis and Rehabilitation, Ms Sharon Diaz, and the Director of the Prison Services Training Academy, Ms Gisell Castillo.
Peter also visited two prisons and the Training Academy where he gave a presentation on the work of ICPS and his observations on prison reform implementation in Panama. He also presented his findings and observations during a final meeting with representatives from the Prison Service, UNODC and the British Embassy. It was agreed that ICPS and the Prison Services Training Academy would sign a Memorandum of Understanding, with UNODC as an external observer, expressing a commitment to share research, knowledge, experience and good practice in the field of prison reform.
The photo above was taken at the UNODC Regional Programme Office in Panama City and shows, from left to right: Guilherme Doin, UNODC; Kevin Harrington-Shelton, Interpreter; Dr Peter Bennett, ICPS Director; Susanne Wilson, UNODC; Sharon Diaz, Head of Diagnosis and Rehabilitation, Panama Prison Service; Jose Mezquita, Vice Consul, British Embassy; Gisell Castillo, Director, Prison Services Academy.