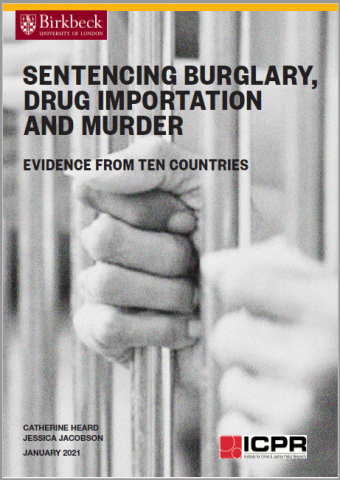 The Institute for Crime & Justice Policy Research (ICPR) at Birkbeck, University of London has published a report revealing vast disparities between countries in their approaches to criminal sentencing, with important implications for justice reform.
Through legal analysis and interviews with criminal lawyers across a diverse group of ten countries spanning all five continents, the research focused on three hypothetical offence scenarios: a domestic burglary by a man with previous convictions for similar offences; drug importation (400 grams of heroin) by a woman from a less developed country; and the intentional homicide of one young man by another. Each scenario presents entrenched policy challenges for sentencing law and practice. The report engages with these challenges, offering lessons for reform to tackle the relentless rise in prisoner numbers seen throughout the world in recent decades.
Lead author Catherine Heard, Senior Research Fellow at the ICPR and Director of the World Prison Research Programme, commented: 'All countries face similar dilemmas in devising sentencing policy, but there is huge variation in how countries respond to those dilemmas.  The tougher, more arbitrary sentencing many countries have introduced have caused prison populations to surge, while leaving untouched the underlying and complex drivers of much offending.'
The ten jurisdictions examined were Kenya, South Africa, Brazil, the USA (focusing on New York State), India, Thailand, England and Wales, Hungary, the Netherlands and Australia (focusing on New South Wales).
The full report Sentencing Burglary, Drug Importation and Murder: Evidence from ten countries can be viewed here and the accompanying Appendix here.