Read this page in French, Portuguese, Spanish
---
When COVID-1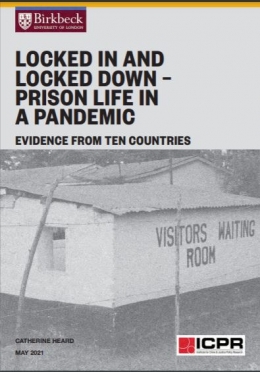 9 was declared a pandemic on 11 March 2020, the need for action in prisons to avert a public health disaster was clear. If outbreaks occurred in the cramped, closed environment of a prison, it would be hard to prevent rapid spread within, and beyond, the prison walls. The lives of prisoners, staff, families and wider communities were at stake. The risks were graver still in with overcrowded prison systems with low staffing levels, poor sanitation and limited healthcare – the reality in most countries in March 2020, as we had reported a few months before.   
From early March 2020, prisons across the world quickly locked down. Prisons closed their doors to family and other visitors and routine activities largely stopped. Prisoners spent long periods locked up in their cells, anxious about their health and that of their families in the midst of a global health emergency, their days devoid of meaningful interaction or activity.   
The restrictive regimes introduced in prisons remained in place for months and, in many countries, are still in place. The physical and mental health impacts have been profound for many prisoners and their families. We and our research partners have gathered first-hand accounts of life in custody immediately before, and during, the pandemic, from a diverse group of countries.   
Lessons for policy and practice   
The pandemic also prompted many countries to take steps to reduce their prison populations to limit the threat of the virus within their prison systems. Early signs suggest that prisoner numbers have begun to fall in many countries. This positive outcome will need to be sustained by means of more targeted, longer term policies. Urgent action is also needed to ensure regime restrictions do not cause disproportionate harm to prisoners' health and wellbeing or their rehabilitation prospects.   
Recommendations   
Prison life 
Key short-term priorities for prison administrations should include:  
Restoring a daily routine, with access to work, education and interaction with others, and a full day spent outside the cell, when conditions are safe enough to permit this 
Re-instating in-person family visits, in line with public health guidance 
Supplementing in-person visits with remote contact where possible 
Improving access to healthcare, screening and treatment and addressing treatment backlogs
Taking proactive steps to promote prisoners' health and wellbeing and ensure decent living conditions 
Decarceration – a health-informed approach 
Key strategic priorities for achieving sustained reductions in prison populations include:   
Ensuring pre-trial detention is used as an absolute last resort, and for the shortest periods possible
Tackling the problem of politicisation in sentencing and parole policy 
Decriminalisation of petty and 'nuisance' offences 
Identifying and tackling disproportionate treatment of marginalised groups in pre-trial and sentence decision-making 
Drug policy reform, encompassing decriminalisation and harm reduction 
Reducing numbers of people with mental health conditions who enter (or remain in) prison 
Providing more effectively for health needs in the community – particularly mental health, and drug and alcohol treatment needs   
Read our research on how prison populations have been impacted by the pandemic and the measures to keep COVID out of prisons.
Expert insights