Read this page in French, Portuguese, Spanish
---
In the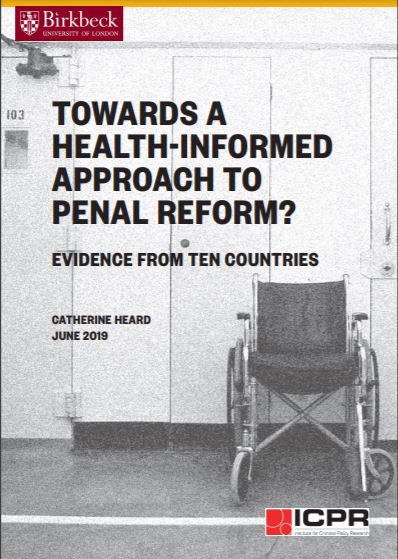 year 2000, the world's prison population numbered around 8.7 million; it now exceeds 11 million. The steady growth in prisoner numbers has given rise to severe prison overcrowding, in both developed and less developed countries. Most countries now have overcrowded prison systems.  
Because of failings to invest in the extra staff, buildings and other resources needed, millions of prisoners today live in conditions of extreme deprivation, with poor standards of sanitation, healthcare, wellbeing and safety. The consequences for health – not only the health of prisoners and staff but also of their families and wider communities – are serious. People often enter prison in poor mental or physical health, which only worsens in bad detention conditions. And being in prison can in itself bring about new mental or physical health problems.  
Over-reliance on criminal justice interventions carries risks for public health and community safety. Other approaches focused on tackling social injustice and health inequality are more likely to reduce crime and lead to better health outcomes. 
Older prisoners
The proportion of older people in custody has been rising steadily. In America, between 1990 and 2009, the number of prisoners aged 55 or older increased by over 300%. Numbers of older prisoners are also high in the UK, Australia and Japan. The reasons include greater use of life or other indeterminate sentences, custodial sentences becoming longer, and more people being imprisoned later in life when 'historic' crimes are prosecuted.
Older prisoners typically suffer from chronic physical health problems such as heart disease, diabetes, hypertension, and sensory impairments. Common mental health conditions include dementia, memory loss and depression. These problems can worsen in prison; and they generally occur around a decade sooner in prisoners than in people in the community.
Prisons are rarely equipped to meet the complex health and safeguarding needs of older prisoners, making this group more vulnerable in custody. The additional risks that COVID-19 presents for older prisoners' health highlights the need for coherent, comprehensive early release schemes.
Scope for reform 
Governments have a duty to protect prisoners' physical and mental health by providing decent, humane conditions and adequate healthcare and treatment. But prison is a difficult setting in which to treat health problems; and those who enter detention already carry disproportionately high burdens of ill health. Overcrowded, under-resourced prisons cannot offer healthy environments or adequate care and treatment. What is needed is a health-informed approach to penal reform, based on the following strategic priorities: 
Reducing overall prisoner numbers;  
Reducing numbers of people with mental health conditions who enter (or remain in) prison; 
Providing more effectively for health needs in the community (particularly mental health/drug and alcohol treatment needs); 
Improving access to healthcare, screening and treatment for those who must be in prison; 
Promoting prisoners' health and wellbeing; and 
Ensuring decent living conditions and safe, healthy regimes. 
Expert insights
Read the report and recommendations.